Songs Without Words in Classical Piano Music and Jazz
The Recording (available as CD as well as mp3 download) sheds light on the genre of songlike solo piano pieces founded by Felix Mendelssohn-Bartholdy (1809-1847), which capture the songful poetic moment of piano playing in musical miniatures. Marie-Luise Alcántara devotes herself to classical piano composition and juxtaposes works by Mendelssohn with those of selected contemporaries. Through pieces by Darius Milhaud (1892-1974) and Gabriel Fauré (1845-1924) she builds a bridge to the 20th century, to which Victor Alcántara dedicates himself from the perspective of jazz. Here he improvises on pieces of the jazz piano tradition such as Horace Silver's (1928-2014) "Song for My Father" or Fred Hersch's (*1955) "Heartsong".
Marie-Luise Alcántara | Piano | Track 1–15 | www.marieluisealcantara.de
Victor Alcántara | Piano | Track 16–21 | www.victoralcantara.de
Webshop click here.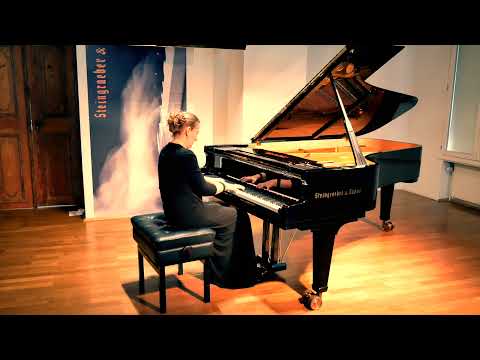 Isaac Albéniz – Angustia | Lied ohne Worte
Steingraeber & Söhne, Kammermusiksaal
______________________________________
01 Felix Mendelssohn-Bartholdy – Lieder ohne Worte, Op. 19 | Nr. 1 – Andante con moto

02 Felix Mendelssohn-Bartholdy – Lieder ohne Worte, Op. 19 | Nr. 3 – Molto Allegro e vivace
03 Felix Mendelssohn-Bartholdy – Lieder ohne Worte, Op. 19 | Nr. 5 – Piano agitato
04 Delphine von Schauroth – Sechs Lieder ohne Worte, Op. 18 | Nr. 1 Mäßig und gefühlvoll
05 Gabriel Fauré – Trois Romances sans paroles, Op. 17 | Nr. 1 – Andante quasi Allegretto
06 Gabriel Fauré – Trois Romances sans paroles, Op. 17 | Nr. 2 – Allegro molto
07 Gabriel Fauré – Trois Romances sans paroles, Op. 17 | Nr. 3 – Andante Moderato
08 Cecilé Chaminade – Six Romances sans paroles, Op. 76 | Nr. 3 – Idyllle – Andante moderato
09 Cecilé Chaminade – Six Romances sans paroles, Op. 76 | Nr. 5 – Chanson Bretonne – Allegro risoluto
10 Isaac Albéniz – Romanza sin palabras | Angustia – Agitato
11 Semyon Barmotin – Drei Lieder ohne Worte, Op. 2 | Nr. 2 – Adagio sostenuto
12 Darius Milhaud – Quatre Romances sans paroles | Nr. 1 – Modéré
13 Darius Milhaud – Quatre Romances sans paroles | Nr. 2 – Vif
14 Darius Milhaud – Quatre Romances sans paroles | Nr. 3 – Modéré
15 Darius Milhaud – Quatre Romances sans paroles | Nr. 4 – Modéré
16 Richie Beirach – Leaving
17 Fred Hersch – Heart Song
18 Victor Alcántara – Song for Marie
19 John Lewis – Django
20 My Song – Keith Jarett
21 Horace Silver – Song for my Father